Following a month abroad, our creative team is back and basking in the afterglow of Milan Design Week at Salone Del Mobile 2019 (aka The Milan Furniture Fair). The renowned international design event did not disappoint and we are still on inspiration overload!

Covering an area of almost 210,000 square meters and showcasing more than 2,300 of the most influential creative companies in the world, you can imagine how hard it is to play favorites! However, this year our creative team has identified their top eight emerging design trends to look out for. Amongst the emerging trends, some current contenders are still going strong. Exaggerated terrazzo surfaces, jewel-tone velvets, sleek walnut finishes, and pop art-inspired pattern-on-pattern all made notable appearances throughout the fair.


Read on to find out what our top 8 trend picks are for the coming season. You don't want to miss this!

Cobalt
Stand out colour, cobalt blue, was hitting the hot button throughout Salone 2019. The bold hue stands perfectly on its own or makes a huge statement when paired with ebony, orange, fuchsia, and gold.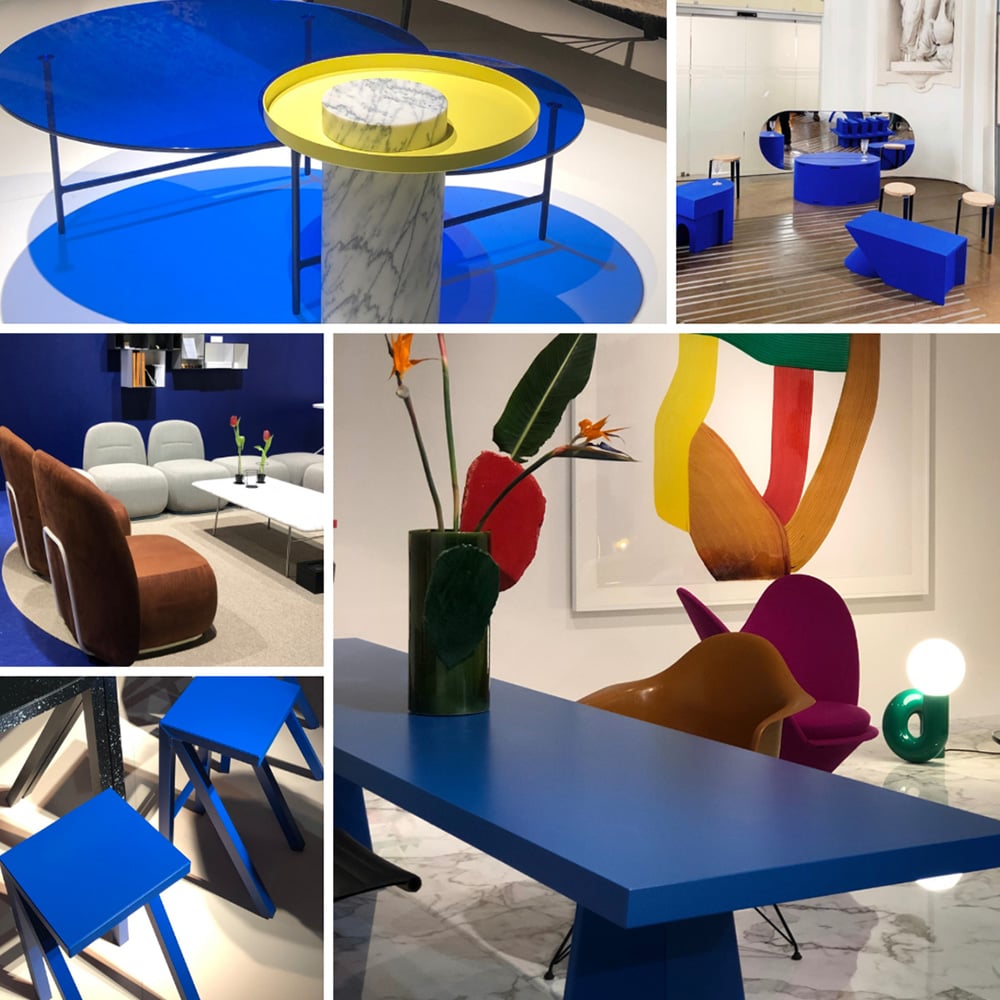 Stacks and Curves
Stacking has always been a design go-to, add some curves and we are hitting the next level. Said design trend has been prevalent throughout Milan this year from installations by South Korean powerhouses Kwangho Lee, Wang & Söderström to the commercially recognised Tarkett. We expect to see this trend across furniture, styling, custom builds, and tabletop products alike.
Catch some stacks and curves-inspired design with our Halo collection, Miami ottoman, coffee, and side tables.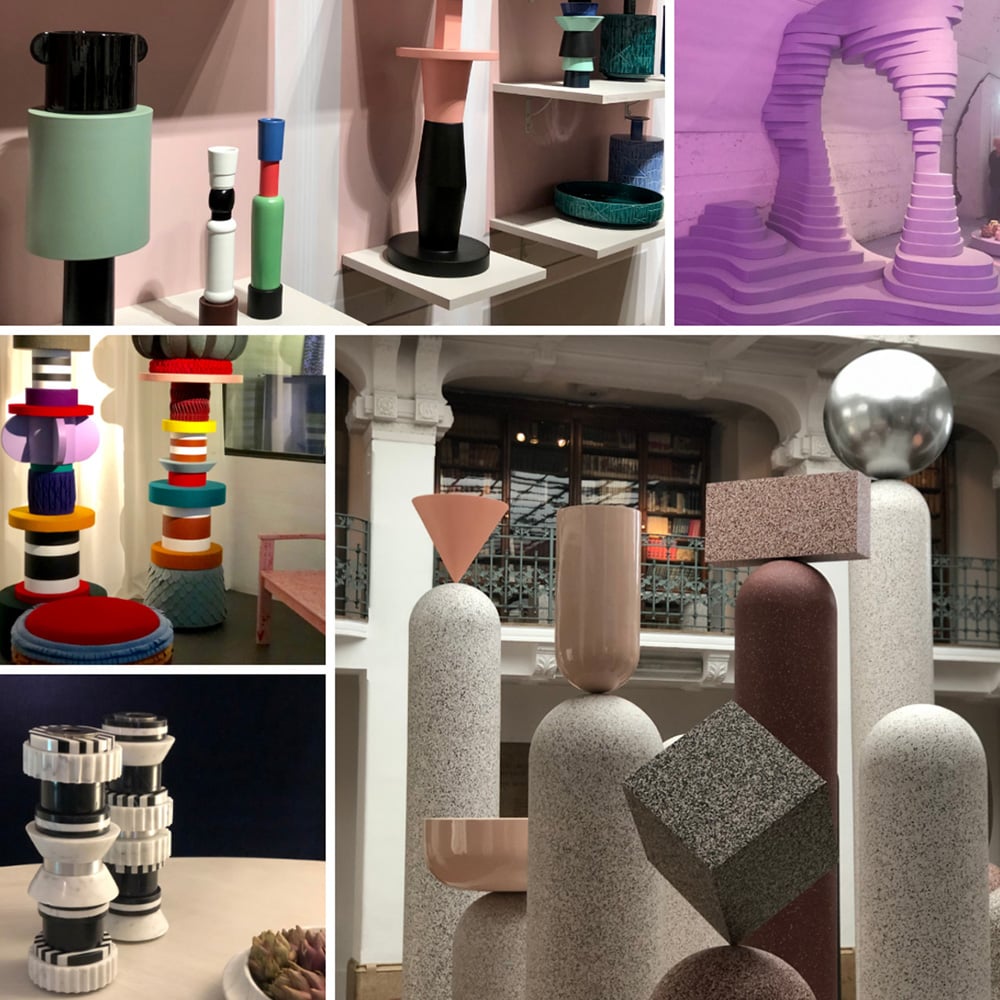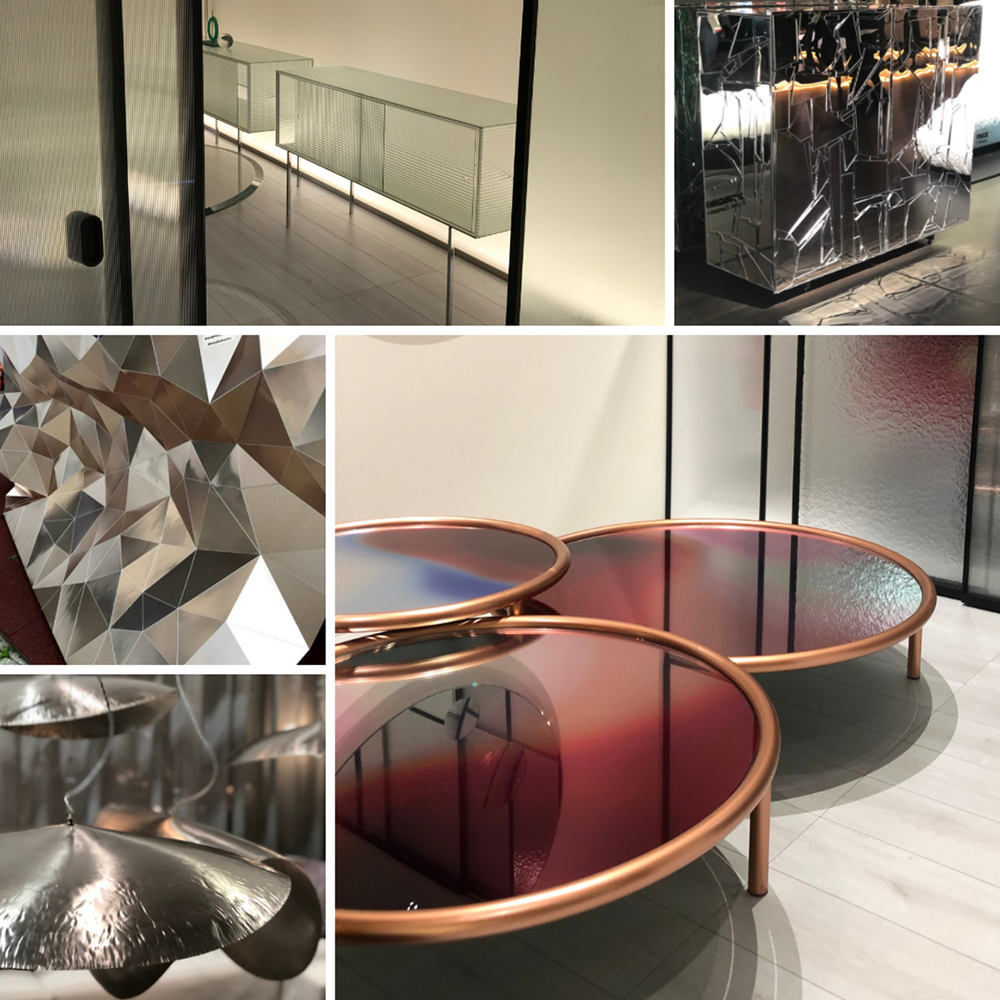 Textured and Reflective
Ambiance, space, and light are found through reflective surfaces. There was a consistent treatment of texture to the reflective that had us at a standstill.
Earthy Neutrals
The perfect palette of fawn, blush, clay, and grey has jumped on high trend alert for this coming season. The new earthy combo offers interiors a tonal warmth and calm ambiance. As seen below at Arper and Fritz Hansen – we are betting this trend is here to stay in both interior and event design.

Get your earthy colour fix from our Aria Sofa in Blush, Jasmine Dining Chair in Desert Pink, and Lana Dining Chair in Natural.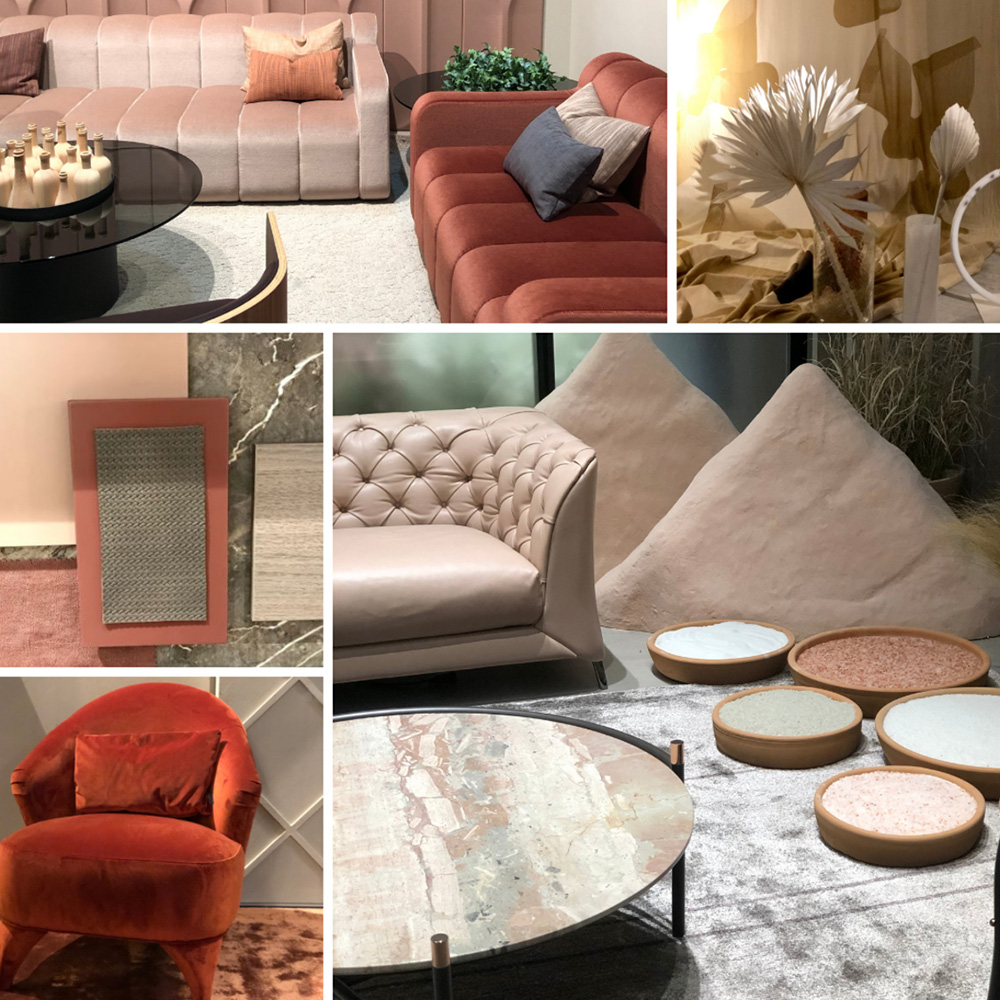 Perforated metal
Perforated metal made a number of appearances at this year's Salone, and we're here for it! This simple detail can add an understated textural elegance to an otherwise simple piece. We particularly love this material in event and interior design as it reduces the footprint of furniture by allowing light and air to pass through, and is durable and resistant to the elements. And all the colour possibilities!
Catch the trend with our growing cirque table range!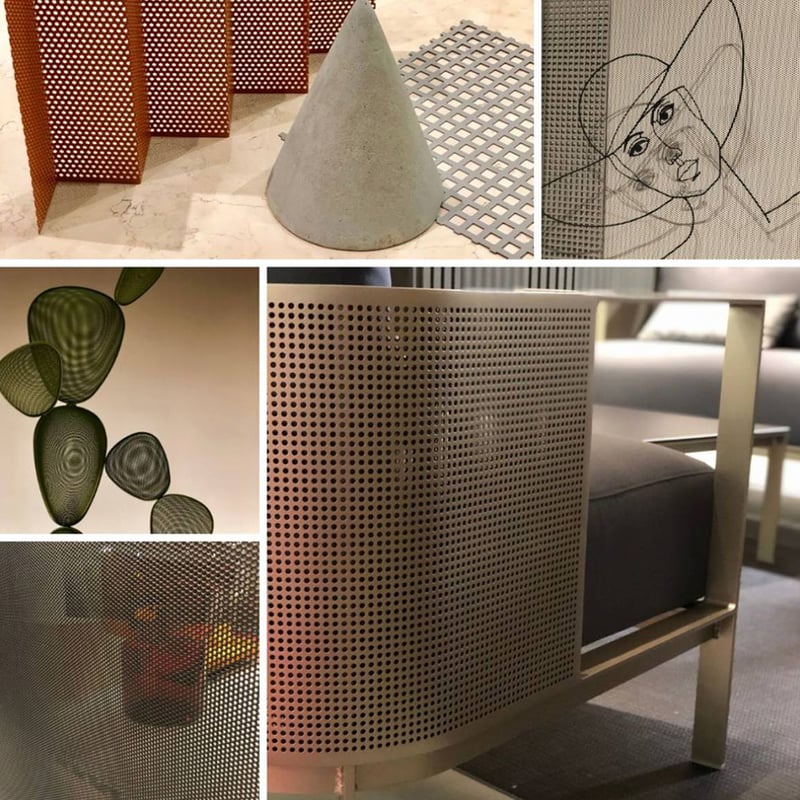 Fuchsia Take Over
We have sensed it for a while – the return to bright colour – and here it is, in bright, bold fuchsia! Following from our love affair with blush pink, fuchsia made an undeniable statement this year in rich, plush velvets, lacquered woods and powder-coated metals. Used most effectively alongside other pinks and purples – we are in love.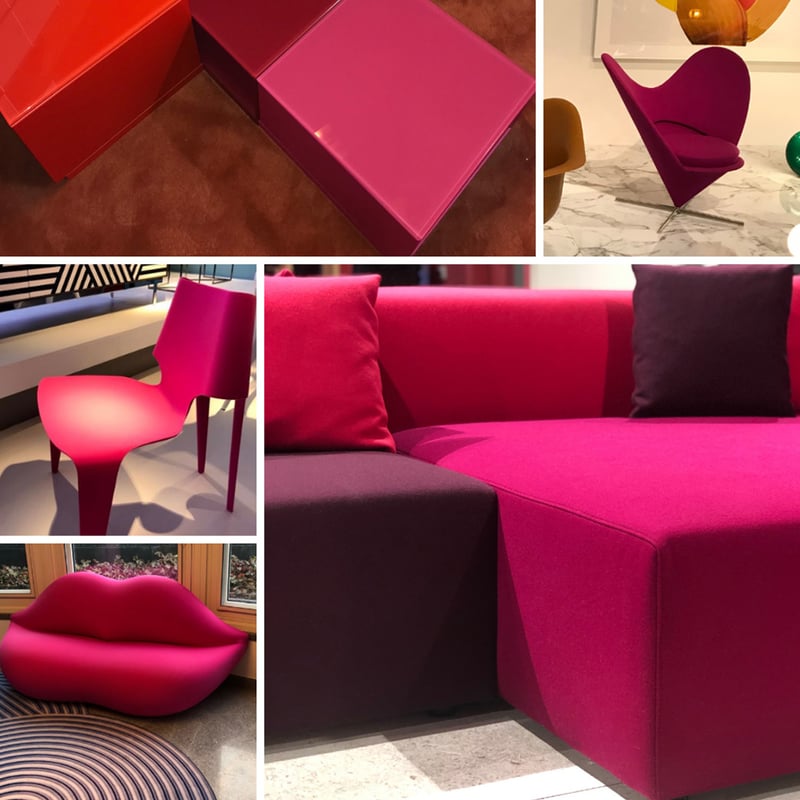 Catch this trend with our Miami Lounge Chair in Fuchsia, Loopy Armchair in Pink Fabric, and Bentwood Bar Stool in Pink.
70s comeback
In colour, form and texture, the 70s is definitely having another moment. And about time! The iconic 70s colour palate of mustard, burnt orange and dusty red set against bright cobalt and chartreuse green was prevalent – and in line with the return to bright, bold colour. Furniture was low profile, robust and comfortable, with a mixed-material approach of velvet, wood, metal, rattan, glass and tile.
Catch the trend with our growing Cresence Range range!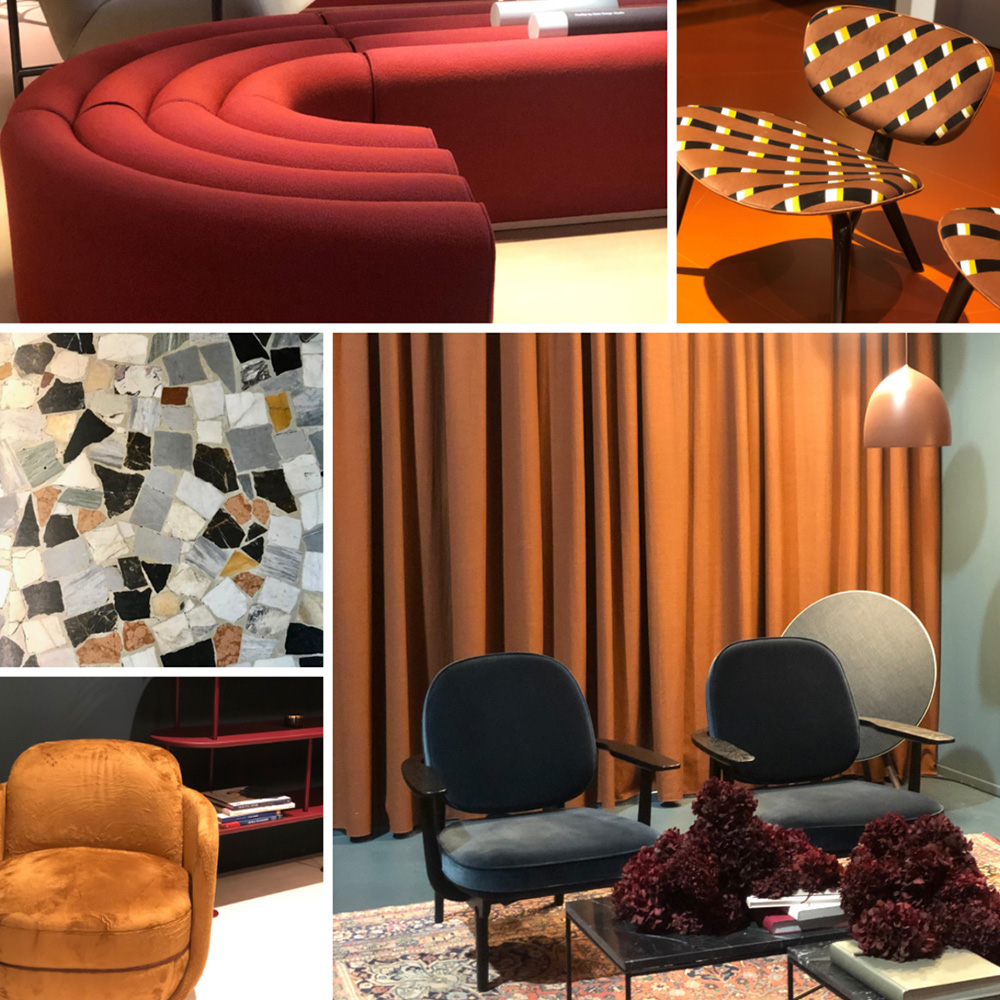 Translucent
From glass bricks and corrugated plastic to ombre Perspex and etched glass – it was all about letting the light in at this year's Salone. As spaces get smaller and darker, designers are turning to materials that allow more light into a space.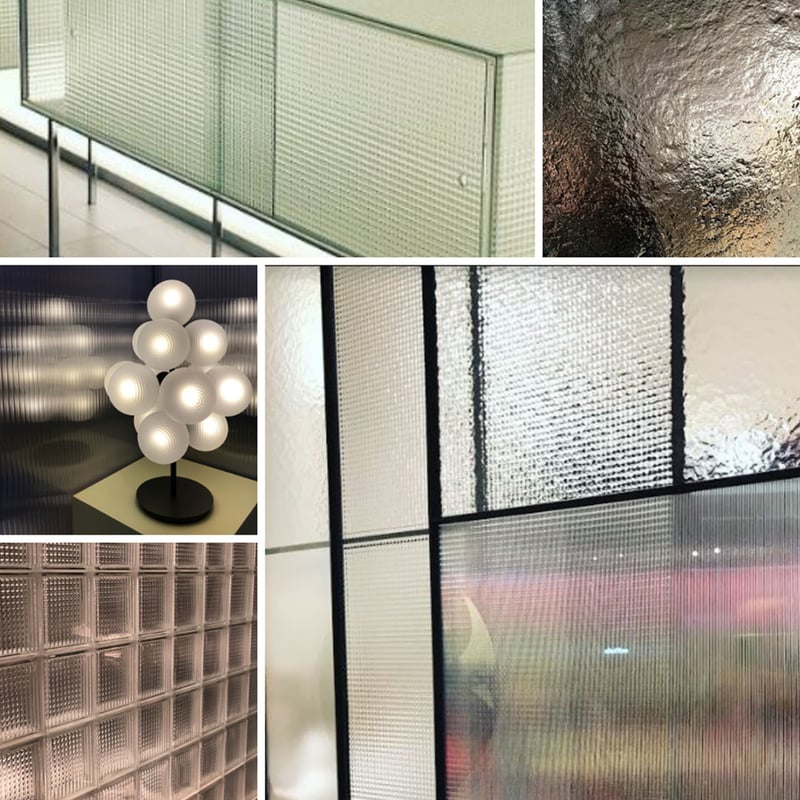 And that's a wrap!
Be sure to follow Valiant's Creative Team as they travel the globe seeking, identifying, and curating the perfect collections and styling across Events, Residential Interiors, and Workplace Hire.

Visit the Hire Shop