Sneak Peek Arrivals
BRAND-NEW PRODUCT ARRIVALS
Ready to Hire
ELEVATE YOUR EVENT
Get ready to be blown away by our newest arrivals, meticulously crafted to take your upcoming events to the next level with a touch of sophistication and flair. From timeless classics to contemporary masterpieces, our handpicked collection guarantees a lasting impression for any occasion. Whether you're planning a corporate gala, or brand activation, these exquisite additions to our vast range are sure to leave a lasting impression. Hire now and make your event truly extraordinary!
MODULAR SEATING DESIGN
Upgrade your event spaces with the Sierra's sleek and modern design. Crafted for comfort and sustainability, this range offers endless seating possibilities with its modular design. From the chic occasional chair to the versatile ottoman, it's all about customisable style. Our environmental commitment shines through with 100% recycled plastic bottle fabric.
Mila Tables
COFFEE TABLE + SIDE TABLE
Versatile and elegant timber coffee and side table that effortlessly complements any event or occasion. With the low-profile design, spherical legs, and rounded shape these standout pieces add a touch of sophistication to any space. Crafted from high-quality timber, Mila guarantees durability and longevity for long-lasting style and functionality.
Eva Banquette
BANQUETTE SECTIONAL LOUNGING
Blending style and comfort, our Eva Banquette brings together a captivating yet uncomplicated design in three adaptable colors for both indoor and outdoor gatherings. Its modular configuration allows for effortless customisation to suit any layout, making this banquette dining solution an absolute essential.
Take your event to the next level with Clover, a sleek and modern masterpiece that will wow your guests. Not only does its unique design and plush upholstery made from 100% recycled bottles make a statement (112 bottles for the Bar Stool and 144 bottles for the Dining Chairs), but its versatility and durability also make it the perfect addition to any occasion. Whether it's a corporate event, wedding, or dinner, Clover adds a touch of elegance and comfort that will leave everyone impressed.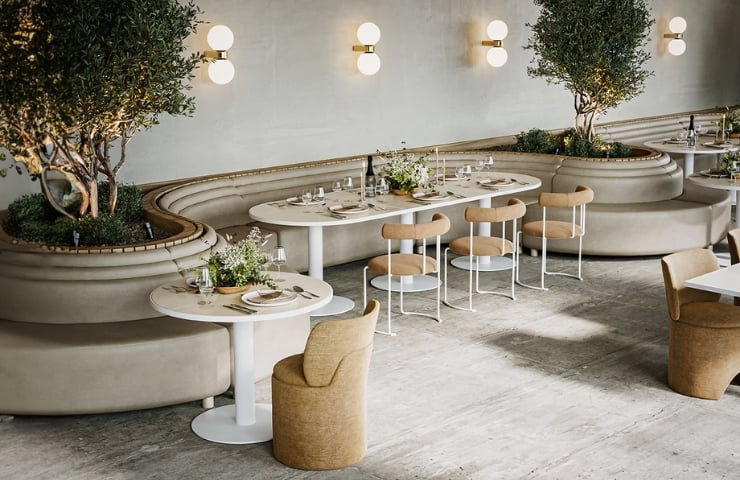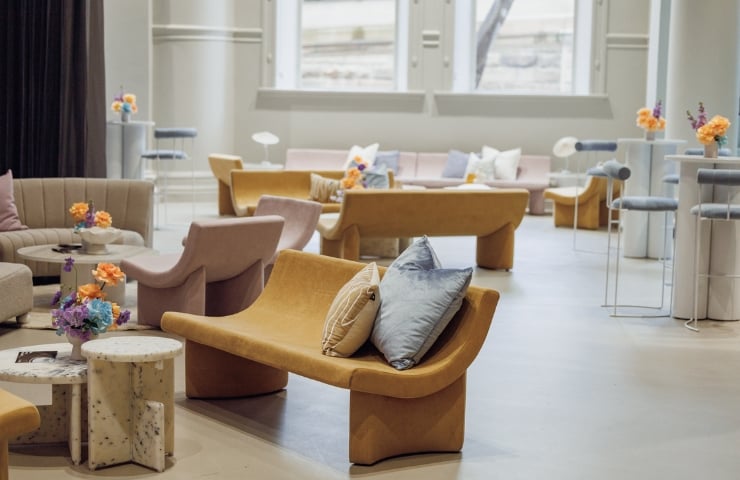 Selena Lounging
READY TO HIRE
The Selena sofa and complimentary occasional chair offer a simple yet stylish statement with low-profile sleek curves, celestial-inspired colour options, luxurious upholstery made from 100% recycled plastic bottles, versatile placement in any space, and unobstructed event vistas, providing the ideal choice for event seating that combines comfort, style, and sustainability.
Chloe Seating
COMPLETE YOUR LOOK WITH CHLOE
The Chloe chairs combine sleek proportions, contemporary design, and sophistication with ultimate comfort, utilising high-quality upholstery made from 100% recycled plastic bottles (229 to be exact) and offering two beautiful neutral colours of peach and biscuit beige to effortlessly complement any dining or cocktail setting.
FABRICS CRAFTED FROM RECYCLED PLASTICS
With its padded seat and sleek cylindrical backrest, the Cresence Bar Stool radiates elegance and sophistication. Its graceful curves and minimalist approach create a captivating addition to any room. By swapping the seat and back cushions, you can explore various configurations, giving it a unique flair to suit any occasion.

Our Blue and Clay cushions are crafted from 120 recycled PET bottles
Audrey Tables
SQUARE AND D-SHAPE
Elevate any space with the chic Audrey cafe table range, featuring interchangeable tabletops in five finishes including recycled plastic ReforaStone tops, versatile bases, and the ability to accommodate larger groups when paired with other Audrey tables, making it a stylish choice for any setting when paired with our dining chairs.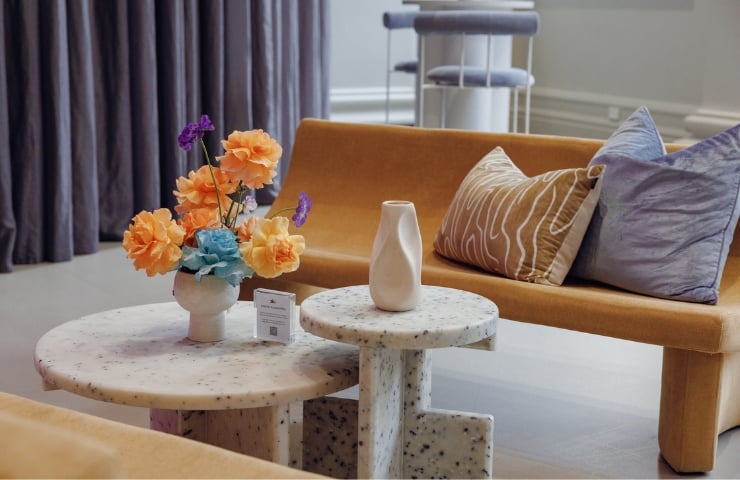 ReforaStone
COFFEE TABLES + SIDE TABLES
Versatile and eco-friendly furniture pieces that add a stylish touch to any event with their terrazzo appearance crafted from 100% recycled plastic. Suitable for indoor and outdoor use, these tables double as additional seating and nesting options, making them ideal for a wide range of gatherings, from casual garden parties to corporate functions.
Coming Soon
KEEP YOUR EYES PEELED FOR NEW ARRIVALS
Discover the excitement that awaits as we unveil a captivating blend of style and sophistication through our upcoming product arrivals. Immerse yourself in a world of creativity and unparalleled craftsmanship, as these unique pieces are ready to redefine and invigorate your event spaces. Be prepared to welcome a fresh wave of design innovation that will breathe new life into your surroundings.
Dante Tapas Tables
CURVED + STRAIGHT
The Dante tapas tables are versatile, sleek furniture pieces that complement any event with their semi-circular curved shape, minimalist design, and customisable recycled plastic, ReforaStone tabletops, suitable for indoor and outdoor use, making it the perfect choice for any occasion when paired with our bar stools.